Ash Creek Homes sets eyes on last Lakeway condo site.
Published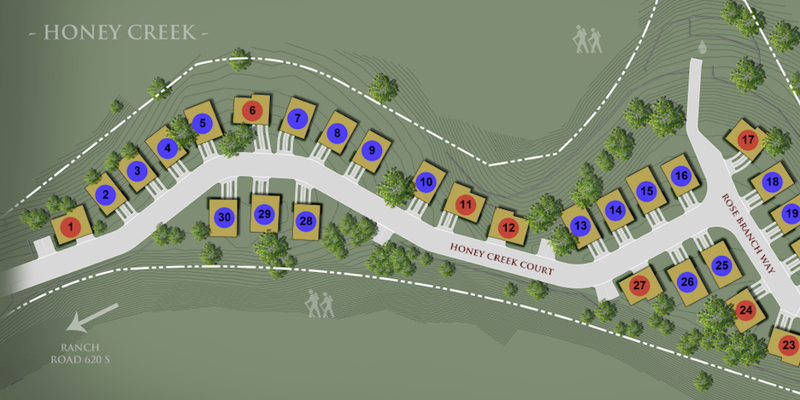 Ash Creek Homes sets eyes on last Lakeway condo site.
The proposed project includes 30 units on a 6.5-acre tract, with a potential driveway that starts at RM 620 and curves behind Independent Bank, traveling downhill to a flat area that will serve as the development site, Project Manager Jenna Edge said. The driveway site drop is about 50-60 feet and allows every unit to have a greenbelt view, she said.
"[The building site] is the last R5-zoned tract in the city of Lakeway," she said referencing the city's zoning code related to condominium development. "It is really a unique tract of land and in a peninsula shape."
The units will be detached and configured as either two bedrooms with two bathrooms, or three bedrooms with three bathrooms, Edge said. Each unit is planned to be 1,500-1,700 square feet in size and in the Santa Barbara style of architecture with 100 percent stucco exteriors, she said.
Edge said she anticipates the proposed condominiums to be priced from the "high $300,000s."
"We have preserved the vast majority of trees [on the site] to give us that mature feeling we like our projects to have," Edge said.
Because of the small lot size and the site's topography, no amenities are planned for the proposed project, she said.
"It is a really challenging site to work with because of the significant drop," Edge said
Pending city approval, Ash Creek Homes will open a reservation list this fall, she said.
The plans are under review by city staff, Lakeway Communications Coordinator Devin Monk said.
*Story courtesy of Community Impact
Related Articles
Keep reading other bits of knowledge from our team.
Request Info
Have a question about this article or want to learn more?